COMMERCIAL MEAT PRESS/FLATTENER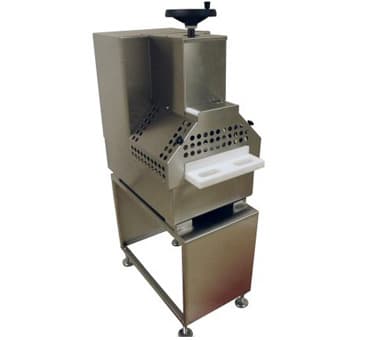 KT-ALP MEAT PRESS/FLATTENER
This semi-automatic mechanical meat press quickly flattens fresh or chilled meat without loss of juices or weight. It's ideal for poultry, beef, pork or veal within small to medium production operations. Pressed meat is consistent and having an even thickness helps ensure that the meat is evenly cooked and provided optimal plate coverage. This machine is economical and costs a fraction of the large machines.
Max Overall Dimensions:
Height: 32.09″
Width: 19.69″
Depth: 28.74″
Weight: 385
Product Specifications:
220V 3 Phase
Stainless Steel
Max Output: 800 Pieces Per Hour
Full Magnetic Safety & Security System
Low Voltage Electronic Controls
Plug n Play Design
Two Hand Safety Start Up
LEARN ABOUT OUR CUSTOMER SERVICE…
Our staff at Statewide Food Equipment has over 100 years combined knowledge on food equipment and weighing systems. We have knowledgeable staff available at all times that are able to diagnose and evaluate the problem to reduce repair time and maximize efficiency.
Statewide Food Equipment offers a 24 hours 7 days a week toll free help line to assist you with any equipment issues and keep your business running smoothly. SFE is recognized for our low call back percentage and high customer satisfaction.
Please call us at 1-800-369-5035 and we will be happy to assist you with you questions or repairs.