ABOUT STATEWIDE FOOD EQUIPMENT, LLC.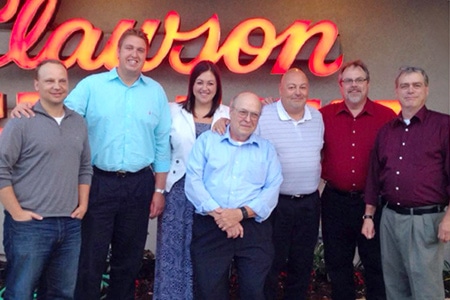 Statewide Food Equipment, LLC specializes in a wide variety of categories. One of our biggest and most successful ventures to date is our weight and wrapping systems, communications, and networking. Our weight systems and networks are in stores spanning from Michigan to Florida. We can fix a problem 3,000 miles away with one click of a mouse.
We are a full-service corporation.  Our staff cumulatively have over 100 years of service and sales experience with food processing equipment and supplies.
We offer a preventative maintenance program that can ensure a fixed maintenance cost for the year.  This allows us to correct minor problems before they become costly major repairs.
Our objective is to provide our customers with fast, efficient, and cost-effective service. In order to assure that this is happening, we provide emergency 24 hour/7 days week assistance.
THE HISTORY OF STATEWIDE FOOD EQUIPMENT
Statewide Food Equipment (SFE) was founded in 1990 by Robert and Judith Alfieri. SFE is a family business, with two generations working together daily to uphold our core family values in our everyday business.  Robert started his business with over 15 years of experience in the food equipment industry.  Judy had a background in mortgage banking and computer programming.
After 15 years in the business, Bob began to notice that the industry was transitioning to one that was more technology centered.  After recognizing that the industry was at a crossroad for the business, Bob and Judy quickly invested and thus, were able to become instant pioneers in the food equipment industry by creating innovative service programs, and providing customers with new equipment opportunities, which still hold true today.
Originally located in Eastern Market in Detroit, MI, SFE quickly became one of the premiere food equipment distributors and service agents in the area.
Statewide Food Equipment strives to focus directly on our customers.  Our goal is to keep our customer at the peak of innovation, while still upholding our core values that we have worked to implement over the last 30 years.  We could not be successful without the help our of service technicians and salesman that work above and beyond their job expectations daily.
WE ARE VERY FORTUNATE TO WORK WITH SOME OF THE BEST COMPANIES IN MICHIGAN:
LEARN ABOUT OUR CUSTOMER SERVICE…
Our staff at Statewide Food Equipment has over 100 years combined knowledge on food equipment and weighing systems. We have knowledgeable staff available at all times that are able to diagnose and evaluate the problem to reduce repair time and maximize efficiency.
Statewide Food Equipment offers a 24 hours 7 days a week toll free help line to assist you with any equipment issues and keep your business running smoothly. SFE is recognized for our low call back percentage and high customer satisfaction.
Please call us at 1-800-369-5035 and we will be happy to assist you with you questions or repairs.