ISHIDA WM-NANO TABLETOP WRAPPER
The WM-Nano tabletop wrapper is the ideal solution for grocers and markets with limited space needing high performance and consistent wrapping.
7-inch color LCD touch screen with backlight and positive input response
Dual-range weighing (0-15 lb x 0.005 lb/15-30 lb x 0.01 lb)
Front-load label cassettes
Internal wireless communications, 802.11 b/g
Ethernet communications
Up to 99 pages of speed keys
Adjustable touchscreen viewing angle
77 tactile keys
4 MB expandable to 2 GB
30+ selectable fixed bar code formats
Compatible with third-party communication software, including Invatron's PLUM and ADC's InterScale
Max Overall Dimensions:
Depth: 27.5″
Width: 33.5″
Height: 27.5″
Weight: 188lbs
Product Specifications:
Packs Per Minute: Up to 15ppm
Wrapping Capacity: Up to 7.5lb
Weighing Capacity: Up to 30lb
Wrapping Size:  5.0″ – 9.0″
Tray Type: PSP, PP, NET
Film Type: Poly or PVC
Stainless Steel Construction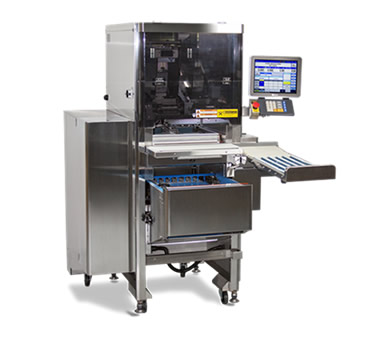 ISHIDA WM-AI AUTOMATIC WRAPPER
Ishida's versatile, PC-based WM-Ai automatic wrapper delivers space-saving efficiency and high-speed performance while weighing, wrapping and labeling up to 35 packages per minute.
Weigh/wrap/label up to 35 packs/minute
Automatic tray identification and centering
Variable speed infeed
Automatic film selection
Film pre-stretching function
Front loading film with auto set
Adjustable touchscreen viewing angle
Large LCD color touchscreen
19 tactile keys
Static TCP/IP Ethernet communication
Dual-range weighing (0-15 x 0.005 lb/15-30 x 0.01 lb)
Robotic label application with user selectable positioning
Stores and prints graphics for custom labeling
Safe handling instructions, country of origin, and more
Large 9 in label roll and 3 in thermal head
2 GB memory
Compatible with third-party communication software, including Invatron's PLUM and ADC's InterScale
WM-Ai Automatic Wrapper with Day Glow Labeler
All standard features of the WM-Ai automatic wrapper
Apply a secondary label in addition to the main label
Use pre-printed day glow labels, select a label design to print or upload your own
Max Overall Dimensions:
Depth: 61.0″
Width: 44.5″
Height: 64.5
Product Specifications:
Cycle Speed: 8″
Wrapping Capacity: 12.0 lb
Weighing Capacity: 15 x 0.005 lb / 30 x 0.01 lb
Wrapping Size: 3.7 – 14.9 in
Display: 12.1 in Color TouchScreen
Film: Two Rolls, Automatic Film Selection
Stainless Steel Construction
LEARN ABOUT OUR CUSTOMER SERVICE…
Our staff at Statewide Food Equipment has over 100 years combined knowledge on food equipment and weighing systems. We have knowledgeable staff available at all times that are able to diagnose and evaluate the problem to reduce repair time and maximize efficiency.
Statewide Food Equipment offers a 24 hours 7 days a week toll free help line to assist you with any equipment issues and keep your business running smoothly. SFE is recognized for our low call back percentage and high customer satisfaction.
Please call us at 1-800-369-5035 and we will be happy to assist you with you questions or repairs.