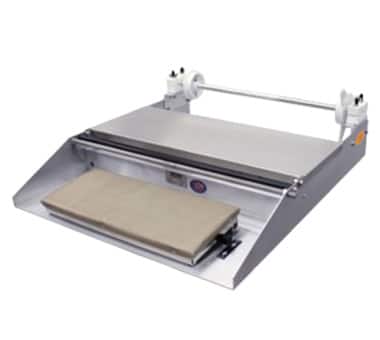 HEATSEAL 625A
Heat Seal's most popular hand wrap machine, stretch film overwrapper 625A. A hand wrap station with a 6″ by 15″ hot plate and film core axle for easy film handling.  Also available in space saving 625A Mini, extra wide 24″ film capacity 625A24, and multiple roll 825A/875A.
Max Overall Dimensions:
Depth: 26″
Width: 22.5″
Height: 9″
Weigth: 19lbs
Product Specifications:
Standard 115V Power Supply
Solid State Controlled Film Cut Off Rod
Aluminum & Stainless Steel Construction
Large Rubber Feet
Heavy Gauge Aluminum Base
Thermostatically controlled Hot Plate
16 Gauge Stainless Steel Wrapping Bridge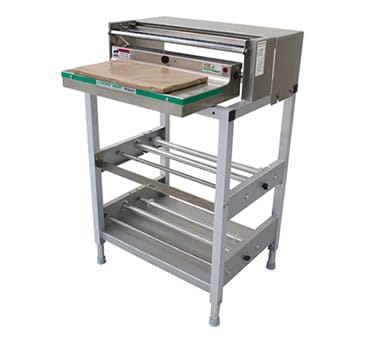 HEATSEAL 200ES
The 200ES is an on-demand hand wrap machine, which the seal plate only consumes energy when you need to seal a package. This unit is actuated when you place a product on the seal plate, the photo eye sees the product and actuates the seal cycle. The 200ES has GFCI in the electrical box and combines many features of the traditional models 104A and 107A, including a 8″ x 15″ seal plate and 20″ film capacity in a new compact design.
Max Overall Dimensions:
Depth: 24″
Width: 25″
Height: 36″
Weight: 90lbs
Product Specifications:
New Film Cradle Mount
Fixed Distance Photoeye to Detect All Tray Color
Stainless Steel Front Plate
Stainless Steel Wrapping Surface
16 Gauge Stainless Steel Wrapping Bridge
GFCI for Improved Circuit Integrity & Protection
Solid State Controlled Film Cut Off Rod
115V Power Supply
LEARN ABOUT OUR CUSTOMER SERVICE…
Our staff at Statewide Food Equipment has over 100 years combined knowledge on food equipment and weighing systems. We have knowledgeable staff available at all times that are able to diagnose and evaluate the problem to reduce repair time and maximize efficiency.
Statewide Food Equipment offers a 24 hours 7 days a week toll free help line to assist you with any equipment issues and keep your business running smoothly. SFE is recognized for our low call back percentage and high customer satisfaction.
Please call us at 1-800-369-5035 and we will be happy to assist you with you questions or repairs.